How can you continue to be a strong candidate for employment even when you've been out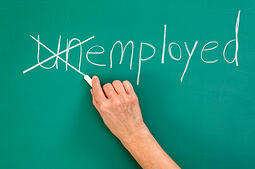 of work for a long time? New York Times columnist Eileen Zimmerman interviewed several employment consultants and experts to give us some great ideas. Here's a summary of her main points, or check out the full article here:
1) Keep current with what's happening in your industry.
Maintain memberships in relevant industry associations and consider volunteering on related committees.
Find ways to give back to the people in your network who are helping you – by sharing relevant articles or knowledge about professional opportunities so that your relationships remain two-sided and win-win.
2) Maintain professional certifications, credentials and licenses and involve yourself
in activities that use your professional skills.
Take temporary or part-time work in your industry if possible, or do unpaid volunteer work for nonprofits or charitable organizations to make sure you to stay up-to-date professionally.

Consider starting your own consulting firm and landing at least a few jobs (large or small) that you can add to your resume and discuss during interviews.
3) Don't try to hide gaps on your resume, but do emphasize the positive.
While reorganizing your resume in an attempt to hide gaps won't fool anyone, some tactics will help to accentuate the positive. For example, using a "Skills Summary" to lead off the resume rather than "Experience" may reduce visual focus on date gaps.

Change the header "Work Experience" to "Experience" so it is easier to include volunteer work as well as paid gigs (clarifying which is which) on your resume.

Quantify results and show how you contributed to the growth and success of an organization, regardless of whether the work was volunteer or paid.
4) Be straightforward about the loss of previous employment.
When interviewing, be ready to share the story of your job loss, regardless of whether your previous position wasn't a good fit anymore, or if it was a layoff. Frame the situation in the best light possible without being dishonest. Remember that fudging the truth and getting caught would not bode well for you.
5) Be specific about the position you are applying for during an interview.
To avoid looking like someone who doesn't know what they want, be clear about what position you are seeking. According to Elena Bajic, founder and C.E.O. of Ivy Exec, a recruitment service in New York, if you were a marketing manager, for example, rather than saying you want to work in any marketing capacity, it's better to be more specific. Employers don't want to hire someone into a job that's not a good fit and have them leave as soon as something more appropriate comes along. Ms. Bajic says employers aren't looking for just any match, "They are looking for the right one."
Good luck with your job-hunt and keep the faith!
You can access the original NYT's article here.