Saying thank you – and acknow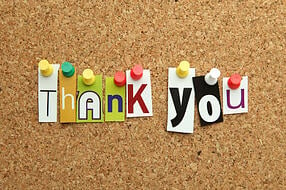 ledging someone in your workplace for a job well done or a meaningful contribution not only can make your workplace happier – it can improve retention and performance.
You and I don't need to read all the polls and data to know that one of the top reasons people leave a job is because they don't feel appreciated. Money is very important, but it only goes so far. We all want to be recognized for the value that we contribute. At work, a simple thank you and a show of appreciation can make all the difference. Even Gallup, the research organization, has years of research that shows engaged employees are more productive employees.
Case in point: Doug Conant former CEO of Campbell Soup believes that giving a pat on the back is an essential part of successful leadership. Over a ten-year period, he wrote approximately 30,000 thank you notes to employees. Moreover, there's proof that his attention to employee recognition as a tool for increasing engagement paid off. After he took the helm at Campbell, his corporate culture-rebuilding program "The Campbell Promise: Campbell Valuing People. And People Valuing Campbell," resulted in double-digit increases for five consecutive years at a company that had previously lost half its market value.
If that isn't sufficient evidence that gratitude has benefits in the workplace, consider the work of Robert Emmons, psychologist and author. He says that gratitude enhances our sense of self-worth, while at the same time strengthening social ties. The best part, is that his studies show that expressing gratitude increases the not only the happiness of the receiver, but also of the giver!
With that, I just want to say, thanks for reading. Wow, I feel better already! How about you?