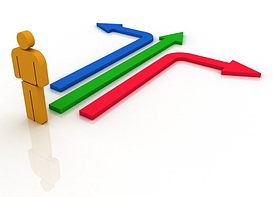 Success is not an accident. In a survey of thousands of successful people, the top 10 percent most successful said that they thought about their dream all the time, and took steps daily to make it happen. After all, can you get somewhere if you don't know where you're going? Having a clear vision and clear goals is essential to your journey.
Take a moment and think about something you've accomplished in your life that makes you feel good and proud.
How did you make it happen?
My guess is that for most of you, it started with an intention or an idea. Chances are, you accomplished your goal because you knew what you wanted, and why you wanted it. Whatever it was, whether it was losing weight, writing a book, or starting a business, it probably started with a desire and the motivation to achieve your dream, your vision.
So what dream have you yet to realize? In an article by author Bronnie Ware, a nurse who worked with patients during the last three to twelve weeks of their lives, she documented what those patients regretted. The most common regret she heard was, "I wish I'd had the courage to live a life true to myself, not the life others expected of me."
Isn't that interesting? She found that when people neared the end of life, it was easy for them to see how many of their dreams had gone unfulfilled.
What a shame! But not a surprise.
Many things can hold us back from pursuing our dreams. In my coaching practice, I encounter all kinds of dreamers: those who have given up on their dreams, those who can't remember what their dreams are, and those who can't get motivated or get past the fear that they won't be able to make their dreams come true.
So while there can be many issues, the very first step in fulfillment is clear vision. Mark Twain summed it up when he said, "I can teach anybody how to get what they want out of life. The problem is that I can't find anybody who can tell me …what they want."
I suggest you take the very first step on the path toward living your best life by getting clear on what you truly want. When your dreams come from your heart, and not from your head, your motivation provides fuel that will help you to see your dreams through to completion. When your heart is in the game, you will find a way to prevail.
If you struggle with this first step, here's a fun exercise to get you started back on track. Can you complete the following statements?
1) If I didn't care what people thought I would _____________.
2) If I were sure that I'd succeed, I would ______________.
3) If I weren't worried about the future, I would ____________________.
4) The thing that has to change now is _________________________.
These four statements may begin to give you a clue of what's really important to you. If you find these statements difficult to answer, maybe you've lost touch with your dreams. In that case, start paying attention. Notice what things get you excited about life; if you can't find anything, start looking back into your past. When was there a time that you felt inspired and excited? What were you doing? Excitement that you felt in the past can give you some great insight into what you might want to do next to get dreaming again.
Knowing your heart's desire is only a first step, but it is a critical one. If you struggle with any part of this work, think about getting some additional support. There is a free worksheet you can download off this site called Smart Resolution Success that gives you more guidance. I also offer a complimentary 30-minute coaching consultation to get you started on your way. Clients usually find that once they get clear about their dreams, it's much easier to put together a project plan to bring them to fruition. If you're interested, contact me on this site, or e-mail cat@theprojectcoach.com.
I leave you with this thought from Henry David Thoreau, "If one advances confidently in the direction of his dreams, and endeavors to live the life which he has imagined, he will meet with success unexpected in common hours."
Happy New Year! I wish you much success in all you dream, and all you do.